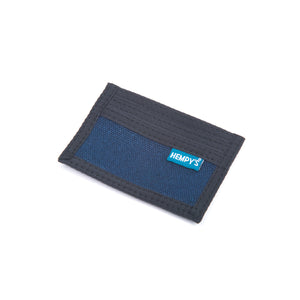 Hemp Minimizer Wallet - Blue with Black Trim
Hemp Minimizer Wallet by Hempy's. Blue with Black Trim. 
NEW ITEM!
MADE IN U.S.A.
100% Hemp Material
Compact 5 Card Holder
Lightweight & Convenient
HEMPY'S Minimizer wallet is for those who just don't like the bulk of regular wallets.  It is exactly as the name depicts, the bare minimum.   A slim wallet with a 100% hemp shell, that features 5 compact pockets which hold up to 10 cards.  The Minimizer  measures approximately 4 1/4″ by 2  7/8″. This wallet is simple, durable, and practical.
---
We Also Recommend