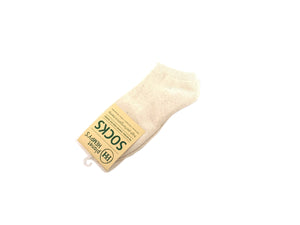 Hemp Sport Socks - Natural
Hemp Sport Socks by Hempy's - Natural color
These socks are the thickest softest socks on the planet, they make your feet feel like they are being hugged by mother nature. With all the natural antimicrobial properties of Hemp these socks will keep your feet fresh all day long. No synthetic fiber can match the hemp's natural ability to breath and wick moisture.
53% Hemp, 42% Organic cotton, 5% Spandex
Sizing;
Small: Mens: 6-9 shoe size        Womens: 7-10 shoe size
Large: Mens: 10-12 shoe size    Womens: 11-13 shoe size
Sizing Note: These socks look long when bought but will shrink upon first washing down to regular sizing.
---
We Also Recommend